Security
We use military grade 256-bit SSL Encryption; our backend is designed for IP Address's that are based on team's authorized location only.
On request we can provide the following reports (some may require a non-disclosure confidentiality agreement)
SSAE16 Report SOC 2 Type 2 Report or PCI DSS ROC report
PCI DSS AOC + vulnerability/penetration test report from an independent third party
ISO 27001 Certification along with Statement of Applicability (SOA) Report
Vulnerability & Penetration test report from an independent third party
HIPAA Risk Assessment + vulnerability/penetration test report from an independent third party
Backups
Server uptime and platform availability is our number one priority. We understand the cost incurred if you cannot access your management platform.
o Hourly Backups - Backups will be taken at the top of every hour, with the last 48 backups being kept.
o Daily Backups - Backups will be taken once per day, with the last 7 backups being kept.
o Weekly Backups - Backups will be taken once per week, with 2 backup points being stored.
Backup solution that provides continuous data protection and off-site disaster recovery servers. Our off-site backup uses replication and synchronization, with point-in-time snap shots, to provide up to the minute data
protection of your complete server configuration.
Backups are not restored for any customer but for entire platform use case.

Server Fail Over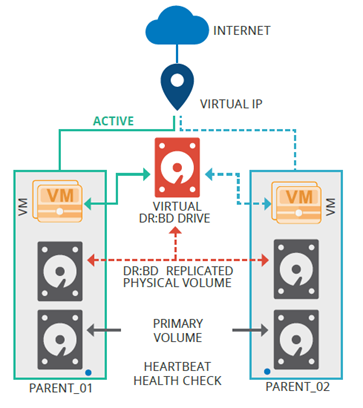 One important note is that failover, whether unexpected in the case of
hardware failure or expected in case of planned maintenance, does
require a reboot of the instance. However, a reboot incurs far less
downtime than a typical hour-long maintenance window or emergency
maintenance in the case of hardware failure. Additionally, virtual instances
typically boot much more quickly than dedicated hardware.
Instance data is replicated instantly between the parent servers over a dedicated network connection. To achieve this, we use Linbit's enterprise grade software Distributed Replicated Block Device (DRBD). The replication is synchronous, which means that if data is successfully written to disk on your instance, it has been written to the hot spare as well.
Proven High Availability Software Heartbeat is running on both of the parent nodes, waiting to detect catastrophic failure. When an active node failure is detected, the hot spare will boot your instance. Since all of your data is being replicated synchronously, every bit of data which was written to disk prior to the fault will be available for you once the instance comes online. Besides hardware failure, our support technicians and Sonar Monitoring team are standing by 24/7/365 to take action anytime an issue is detected with failover or if your instance becomes unresponsive.